Today India News
kishor: Is Prashant Kishor facing the toughest political challenge in his career? , India News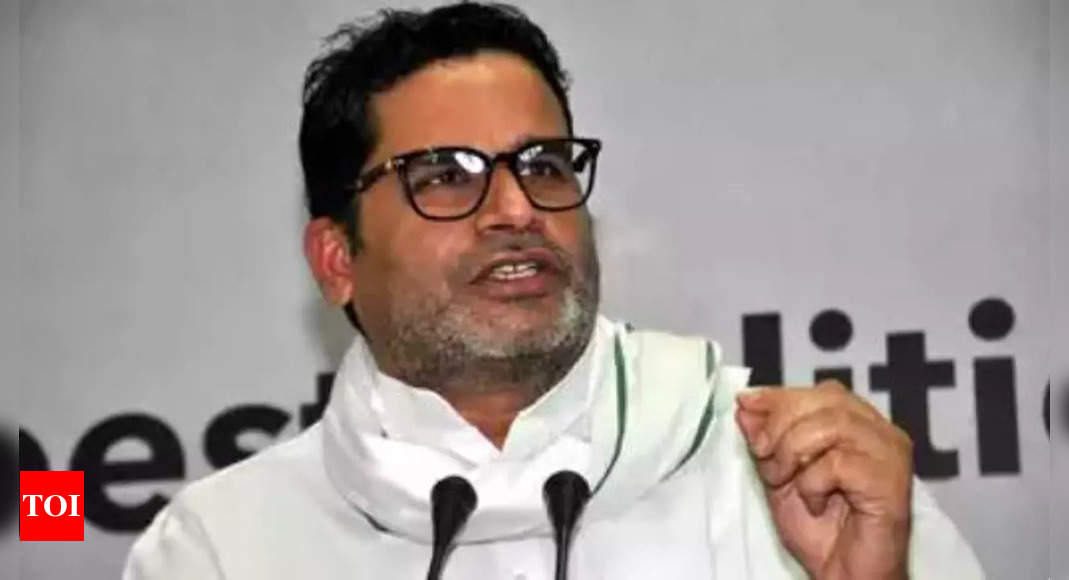 NEW DELHI: Much before election strategist
Prashant Kishor
has embarked on a new political journey, all four prominent parties in
Bihar
have written him off as a serious player in the state politics.
In a press briefing held at Patna on May 5,
Kishor
announced the political journey he has charted for himself in the future. He said about 18,000 people from Bihar were in touch with him and he would announce the formation of a new political party if a large section of these people decided so.
He said under the rule of RJD and JD(U) in the last 30 years, Bihar found itself at the bottom of several developmental indices.
Kishor informed that he would launch a 3,000-km 'padyatra' across Bihar, the state he comes from, for about a year from October 2,
Gandhi Jayanti
,
Kishor made these announcements after his talks with Congress over joining the party failed last month. He later declared his new move about getting involved in politics of Bihar. On May 2, he said this in a tweet ahead of the press briefing: "My quest to be a meaningful participant in democracy and help shape pro-people policy led to a 10-year rollercoaster ride! As I turn the page, time to go to the real masters, the people, to better understand the issues and the path to 'Jan Suraaj' – Peoples Good Governance. Beginning from Bihar."
My quest to be a meaningful participant in democracy & help shape pro-people policy led to a 10yr rollercoaster rid… https://t.co/KApamLQISs

— Prashant Kishor (@PrasantKishor) 1651463965000
Earlier, he worked as an election consultant and political strategist for several parties, starting from BJP in the 2014 Lok Sabha election to others like JDU in Bihar, TMC in West Bengal and Congress in Uttar Pradesh and Punjab.
However, much has been discussed about Kishor ever since he made the latest announcements. A section of the people support him, others likened him to Aam Aadmi Party convener and Delhi chief minister Arvind Kejriwal and yet others doubted him and his decision to take an active political plunge in Bihar.
Political observers doubt his leadership qualities, ideology, funding and cadre and mass support which are necessary ingredients for a successful political party.
Questions are also being raised about the chances of his success in a caste-ridden state which has not witnessed an upper caste chief minister since 1990. Kishor is a Brahmin and comes from the upper caste.
After the Mandal Commission movement of 1990, Bihar has seen four CMs. While Lalu Prasadhis wife Rabri Devi and Nitish Kumar belong to the Other Backward Class (OBC) category, Jitan Ram Manjhi comes from the Scheduled Caste (SC) category.
Prominent leaders of Bihar's four major political parties – ruling JD(U) and BJP and opposition RJD and Congress – have welcomed Kishor's endeavour but are sceptical of his success.
JD(U)
JD(U)national spokesperson KC Tyagi told TOI that Kishor will not have any impact on his party.
He said before Nitish Kumar took over the reins as Bihar chief minister in 2005, the state under RJD from 1990 onwards had witnessed largescale misrule and lawlessness as development was the first casualty. Crucial sectors such as education, health, roads, law and order suffered heavily. Between 1990 and 2005, the state's GDP dipped to minus 3 per cent, he alleged, and added that it was pegged at 11 per cent, which was more than the national average.
Tyagi said the Nitish-led government created special courts as a result of which 50,000 people were convicted and jailed. Earlier, electricity cables were used to dry clothes but now no house is without electricity. The dropout rate from schools was quite high but it improved after free cycles were distributed to girls, he said.
He said, "Rule of law was established and 35 per cent reservation for women in police stations helped to a large extent. What is our alternative? NDA led by Nitish Kumar."
He reminded that Kishor had worked for JD(U) in 2015 as its vice-president. He had coined a slogan like "Bihar mein bahaar ho, Nitish Kumar ho". JD(U) worked on his suggestions on social justice – to work for Mahadalits, to create separate commission and launch schemes for extremely backward sections of the society. The Nitish government implemented Karpoori Thakur formula to ensure power to the most socially and economically backward.
Tyagi noted how he had helped Kishor. "When he (Kishor) came to Delhi, he stayed in my house. He is hardworking and diligent. Everyone has a right to form a party. But PK brand is not possible in Bihar till Nitish Kumar is the CM there. PK is fit for the work he was doing earlier but we know that he is not as good as Nitish Kumar in politics," he said.
Reminded about Kishor's attack on RJD and NDA governance in the last 30 years, Tyagi said industries, coal mines, minerals, reputed educational institutes and big cities went to Jharkhand after the division of Bihar in November 2000. Drought and floods went to Bihar's share. Drought-hit and flood-hit commissions work permanently in Bihar.
The JD(U) leader said Bihar will not emerge as a developed state till special category status is granted to it by the Centre. He said the Raghuram Rajan committee had recommended in 2014 to grant special status to Bihar. "Until it gets the status, why should an investor go there? We are fighting our own government. We did it so with UPA," he said.
BJP
BJP state general secretary and MLC Devesh Kumar told TOI that Kishor has set off a trial balloon and will test from October 2.
He said anyone in a democracy is welcome to launch a political party. "However, Bihar is a difficult state. There are several factors into play. Preparing electoral strategies is one thing but displaying perseverance in a caste-ridden state is another. I do not think he will make a party. One alliance is in power. We also have a strong opposition. There is no space for another party," he said.
Kumar said Kishor did not have the moral right to criticize the JDU because, as vice-president of the party, he was considered the architect of its victory in 2015. Kishor was later from JD(U).
RJD
Bihar's principal opposition party Lalu Prasad-led RJD is critical of Kishor. Prasad's son Tejashwi Yadav said, "Prasant Kishor's statement does not make any sense to even merit an answer. It is a baseless statement. I am not aware of his whereabouts, who is he? He has never been a factor in anything so far."
Speaking with TOI, RJD vice-president Shivanand Tiwari said Kishor had not done anything exceptional but had just quoted Niti Aayog's statistics. "What is significant in what he said is that he will traverse a distance of 3000 km on foot from one village to another. We get tired walking five to ten kilometers. Let us see how much he can travel. Even 1500-2000 km will be sufficient," he said.
Congress
Bihar Congress president Madan Mohan Jha, whale speaking with TOI, welcomed Kishor in active politics and said all were welcome to launch a party. He said Kishor had association with several political parties in the past and, therefore, he is not known to have a set ideology.
Jha said, "Kishor had achieved success as an election strategist. However, the public will take a decision about his new political course. It would have no impact on Congress. Only time will tell whether he will succeed."
The state Congress chief said Kishor hardly had a space in the state which already has several parties led by Lalu Prasad, Chirag Paswan, Mukesh Sahni and Pappu Yadav besides BJP, JD(U) and Congress.