India
congress: Congress chief Sonia dials NCP'S Pawar, CPM'S Yechury & TMC'S Mamata; non-Cong member may be oppn nominee for President poll | India News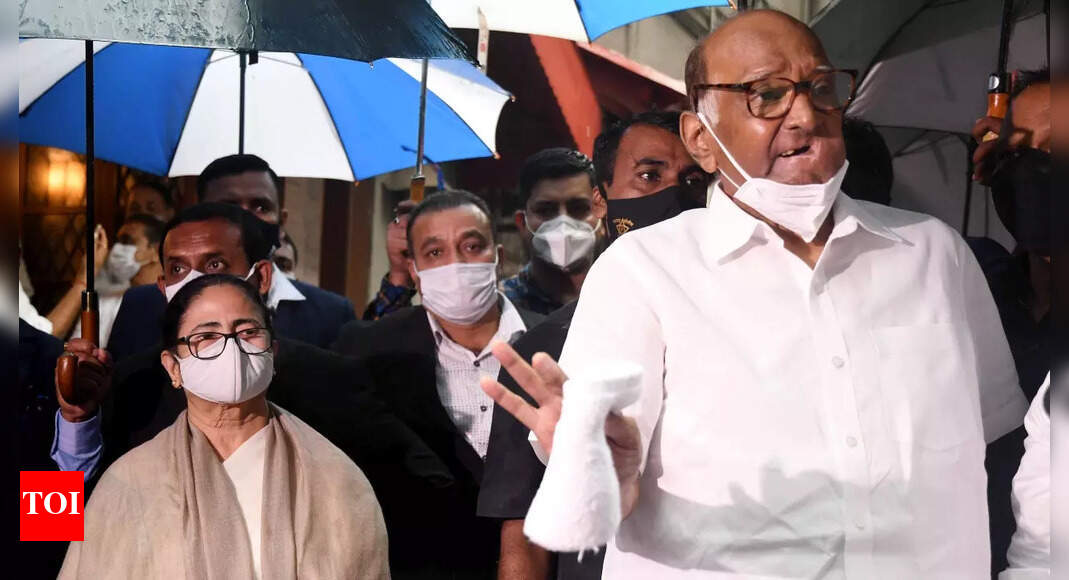 NEW DELHI: Hours after the EC announcement,
Congress
chief
Sonia
Gandhi dialed CPM general secretary Sitaram Yechury,
NCP
Chief Sharad Pawar and Trinamool chief
Mamata Banerjee
in a bid to find partners and put up an opposition candidate to challenge the NDA.
With Sonia unwell with
covid
, she deputed leader of opposition in Rajya Sabha Mallikarjun Kharge to hold consultations with like-minded parties. Leader of opposition in Rajya Sabha Mallikarjun Kharge met Pawar in Mumbai and is set to reach out to like-minded parties. Non-Congress leaders are expected to sound out BJD, YSRCP and TRS. The political diminution of Congress and the emergence of anti-BJP players who are hostile to Congress has complicated negotiations and it is believed a non-Congress member could be the consensus choice for president.
Kharge met Pawar in Mumbai, and said that he will now speak to DMK and TMC leaders to finalize a date for a joint meeting to brainstorm on the choice of different parties to narrow down on a final name. The anti-BJP camp is particularly looking to know the mind of three key regional players – YSRCP, BJD and TRS.
"We will hold a meeting in the next few days to kickstart the process of consultation," a senior opposition leader said.
With the new presidential elections coming amid unprecedented weakening of Congress politically and emergence of new anti-BJP players who are also hostile to Congress, like TRS, a tough balancing act lies ahead for the party's negotiators.
It is believed that these factors have brightened the chances of a non-Congress member emerging as the consensus choice – maybe a candidate who is an intellectual or an eminent person identified with the marginalised sections. Pawar too is being pushed from many quarters to take up the mantle.
However, given the political diminution of Congress, it was significant that the Congress chief and her emissary Kharge took the initiative to corral opinions of like-minded parties.
Kharge also called many opposition leaders to discuss the issue, and CPI's Binoy Viswam said that he told the senior leader that the candidate should have "secular and progressive" credentials. "Kharge replied that Sonia Gandhi and Congress also have the same position," Viswam said.
According to an opposition source, some non-Congress leaders will reach out to BJD, YSRCP and TRS to feel their pulse on the issue. "If they show a willingness to vote against BJP, it will be a serious election. But if even two of them have decided to vote with BJP, then the election will be of academic value, though we will give it all that we have to make a political statement at least," he said. These three parties also figured in the discussions that the Congress chief held with senior opposition members over the phone.
As the process unfolds, Congress leaders confirmed that the party is facing the twin challenge of going into the process with a thin political muscle and hostile anti-BJP members. It is for this reason that non-Congress leaders like Pawar and Banerjee will play a key role in talks with prospective partners like BJD, YSRCP and TRS.
While BJD and YSRCP are seen as difficult customers to convince, many believe that TRS, despite its hostility to Congress, may vote with the opposition, given its new-found and aggressive positioning as an anti-BJP force.