Entertainment
Big B deleted the tweet on 'Dhaakad', Kangana said – who was scared?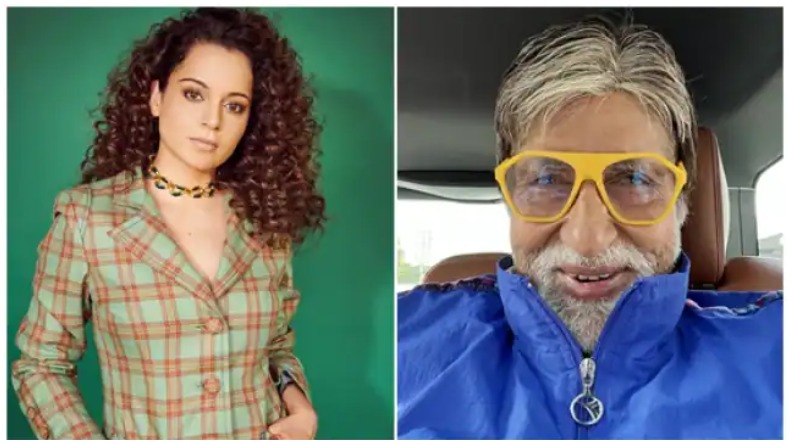 Views:
28
New Delhi, After her show Lock Up, now Bollywood's Queen Kangana Ranaut is now making a lot of headlines for her next film Dhaakad. During this, along with him, now Bollywood's Big B Amitabh Bachchan is also in the headlines. Actually deleting one of his tweets is now a reason for discussion. This tweet is related to Kangana's upcoming film Dhaakad.
The trailer and first song of Dhaakad 'She is on Fire' has now been released. From the trailer of this film to its first song, the audience is being well-liked. It is known that along with the audience, many big Bollywood actors also appreciated the trailer of this film. Big B is also included in these actors. He had tied the trailer of this film in a moment of praise by one of his tweets, but he deleted this tweet shortly after. In such a situation, if Kangana does not have a reaction on this matter, then the matter is not digested.
What did Kangana say on Big B?
Actually, the actress is busy these days in the promotions of her film Dhaakad. During a conversation with a YouTube channel, Kangana has also given her reaction on Big B's deleted tweet. To a question about Bollywood celebs not appreciating the trailer of Dhaakad, the actress replied, "Bollywood has some personal insecurities and all of them are trying to hide behind the fact that oh…we will be boycotted from the industry."
Will soon be seen in this film
Kangana will soon be seen in the film Dhaakad. The trailer of this film has created panic all over the internet. Even before its release, people are stunned to see his action. Action-thriller film Dhaakad is going to be released in cinema houses soon. In this film, the actress will be seen doing action in a very strong form. During a conversation with her at a promotional event of her film, when asked how much she resembles her character, she was also about to hear her answer. Kangana laughed and said – it is not like that at all. You tell me who would I kill in real life. Due to this rumor of you people, I am not getting married. On this she started laughing openly on her own point.
Read also:
Corona cases increased in Delhi-NCR, teachers and students all in the grip of corona, is this a sign of fourth wave?
IPL 2022 Playoff Matches: IPL 2022 playoff matches can be held at Eden Gardens, final will be held in Ahmedabad



Follow us for the latest news of the country and the world Facebook,Twitter